Noah's Ark Communities to Provide Residential Living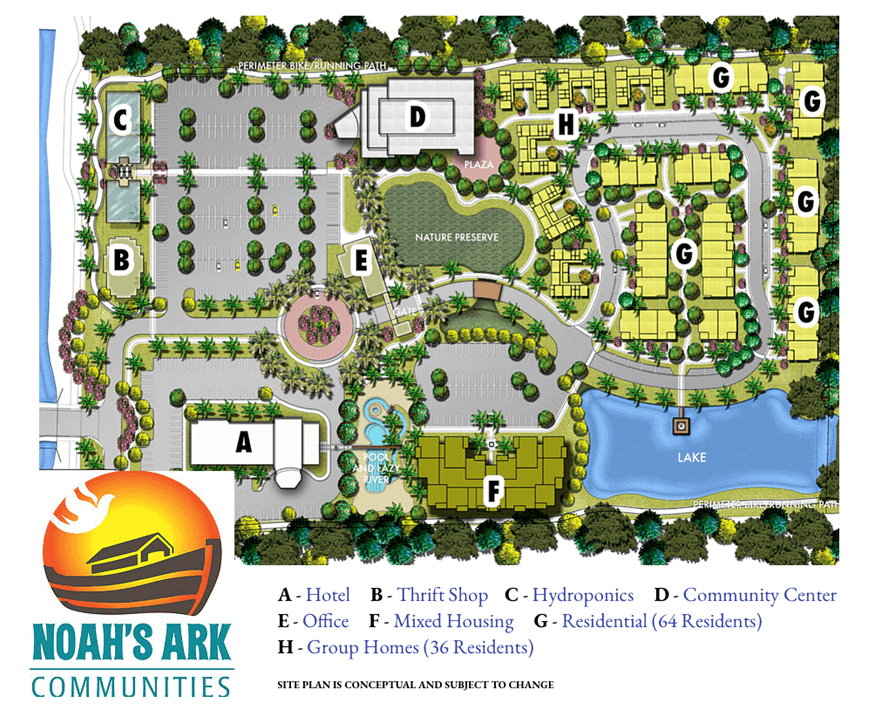 Noah's Ark Communities to Provide Residential Living for Adults with Disabilities, focused on Autism
Naples, Florida, 03 May, 2019: Truth Technologies supports Noah's Ark Communities a 501(c)(3) charitable organization providing a safe residential living, learning and work environment to individuals with developmental disabilities, with a focus on the autistic spectrum disorder. The organization's mission is to develop residential villages nationally, serving about 120 individuals each. Residents of Noah's Ark Communities typically will be age twenty-one and over because state-provided benefits are generally terminated when an individual reaches such age.
The State of Florida ranked 47th nationally in providing support services for individuals with intellectual/developmental disabilities ("ID/DD") and there were over 6,000 citizens with ID/DD waiting for critical support services without funds available.
 Individuals with intellectual/developmental disabilities often struggle to find employment and to feel part of society.  The need for support services is real and the demand has been increasing exponentially over the last decade.
Noah's Ark Communities raises awareness to the needs of the developmentally disabled. It creates opportunities for safe housing and employment with the support of full-time, salaried health care and other professionals to assist in the daily activities of its residents. Noah's Ark Communities will affiliate its program with other similarly-motivated programs which provide opportunities for individuals with special needs.
The proof of concept is provided by the Villages at Noah's Landing, which opened in mid-2016, in Lakeland, Central Florida. It's a community with one, two, three, and four-bedroom shared apartments.  Each resident enjoys the privacy of their own bedroom and bathroom. The master plan emphasizes sustainability and harmony with nature. Residents can choose to enjoy a variety of rewarding lifestyle offerings, including education, arts, a training center, daily activities, an accessible pool, walking trails, and an optional dining room. A special focus is to integrate residents in the community at large through promoting work opportunities in order to achieve an individual's highest possible level of independence.
In addition to salaried staff, Noah's Ark will rely on available programs through the Medicaid Home and Community Based Waiver Program, State and Federal Housing programs as well as volunteers, and on partnerships with universities for ongoing internship programs. Beyond grants, subsidies and donations, our organization also innovates with donations through Pooled Income Funds.
Egide Thein, Chairman and Founder of Noah's Ark Communities summarized the plight of caregivers, most often the parents of the developmentally disabled: "Those children will likely outlive their parents.  Where would they live? Who would care for them? Would they have friends? Would they have a reasonable quality of life? Most importantly, how would they survive once their parents are no longer around to take care of them? My wife and I have a 42 year old son who has required support services since his adult life. Speaking from experience, we have found that there is a dramatic and urgent need for quality care. We need to get more done: a civilization is measured by how it treats its most vulnerable".
Clifford "Chip" Olson, Member of the Board overseeing the development said: "Starting from the definition of needs, Noah's Ark will achieve two basic goals: It will offer low-cost residential rental communities and promote independence and quality of life for the developmentally disabled. There will be a choice of two types of residences available, the Group Homes will house 36 residents and the Residential Buildings will house 64 residents. The Naples/Ft. Myers area is the perfect location for the newly planned Noah's Ark Community. The plan includes a choice of affordable housing, with a secure gated entrance, nature preserve, community lake, clubhouse, lazy river and pool, bike and walking path, on-site store, hydroponics, administration offices, and hotel for residents' guests and public use for guests with disabilities."